Fort Wayne Slip & Fall Lawyer
A person is walking along, taking care of their daily business. In the span of one second, they've taken a tumble. They're on the ground and in pain. Perhaps the scope of the injuries is immediately apparent, or maybe it's a few days later that aggravation kicks in. Either way, the person is now facing medical bills, rehab, some potential missed time at work, and the possibility of a sustained recovery period. A Fort Wayne slip and fall lawyer can help them seek the compensation they deserve in a settlement.
---
Attorney Jennifer McKibben has spent over 15 years serving the people of Fort Wayne when they've been injured through someone else's negligence. Call McKibben Law, LLC at (260) 777-0844 or contact us online to set up a consultation.
---
Slips and falls can stem from a wide range of hazards. Perhaps the injured person was doing some shopping and didn't see a wet spot on the floor. Another possibility is being at an outdoor picnic, engaged in some type of recreation, and injuring an ankle on unlevel ground.
These are just some examples where the owner of the property might be liable for the injuries. A slip and fall lawsuit can potentially apply in any situation where the property owner failed to exercise a reasonable duty of care.
Reasonable Duty of Care in Slip & Fall Cases
Courts in Indiana don't expect property owners to stop every bad thing from happening. What is expected is that they will do what can be done to keep people on their property safe.
Let's consider the case of the person who slipped and fell while shopping. What was the cause of the fall? Were the floors inherently slippery–a problem waiting to happen? If the cause was a spill, how long did it take for an employee to arrive and clean it up? If the spill happened at 10 a.m. and the fall happened at 3 p.m., it's unlikely to be seen as reasonable for a business to take that long to clean up a slip. But if the fall happened at 10:10 a.m. when an employee was going for a mop, the plaintiff will have a harder case.
Whatever the circumstance, the questions facing the court will be–could the property owner have reasonably foreseen that a slip would come from certain conditions, and were reasonable steps taken to prevent that from happening?
Damages in a Slip & Fall Settlement
When a Fort Wayne slip and fall lawyer is successful in establishing that a property owner breached their duty of care, causing their client to be injured, the focus can shift to a fair settlement.
There are three components of any damages award:
Economic Damages: These are the costs that are directly measurable. The plaintiff can show their medical bills, and their W-2 forms or tax returns can demonstrate the cost of missing work. The costs of rehabilitation can be reasonably projected.
Pain and Suffering: These are the damages that are very real, but hard to quantify. You can't truly put a dollar value on pain and suffering, but a court must at least try. A plaintiff's lawyer can summon witnesses from the plaintiff's life to testify to how much the injured person has lost.
Punitive: These are damages a court applies to "send a message" that the negligence involved is simply unacceptable. It should be noted that punitive damages are not often applied when the defendant is a private citizen or small business owner. Punitive damages tend to be reserved for cases of corporate malfeasance.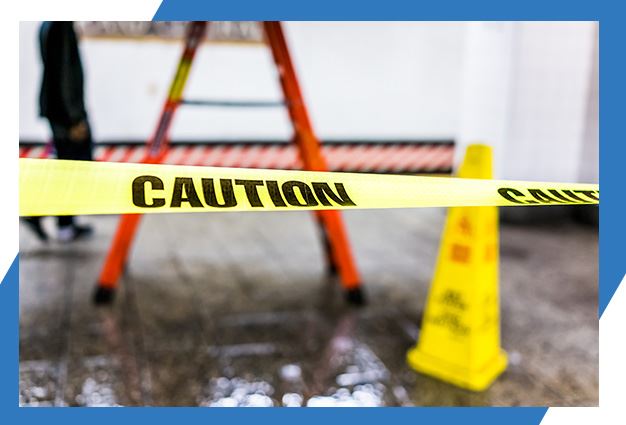 How Plaintiffs Can Help Themselves
Communication is important in the immediate aftermath of a fall. The victim should immediately inform the property owner of their fall, go see a doctor, and call a Fort Wayne slip and fall attorney.
It's unwise to tell the property owner that one is feeling fine. The effects of injuries, especially in the back and neck, can take time to manifest themselves. Any words indicating good health can hurt a personal injury case. The same goes for social media postings telling people something to the effect of "I fell, but I'm fine now." The best approach is to keep communication simple–tell the owner you fell, see your doctor, and call a lawyer.
Attorney Jennifer McKibben has been handling cases like these for over 15 years. She understands what it takes to prove a case and what's needed to secure a fair settlement.
---
Call the Fort Wayne office of McKibben Law, LLC today at (260) 777-0844 or contact us online to set up a consultation.
---
For aNY tYPE OF iNJURY, Call Jen EVERY Time!
Schedule your free consultation now.